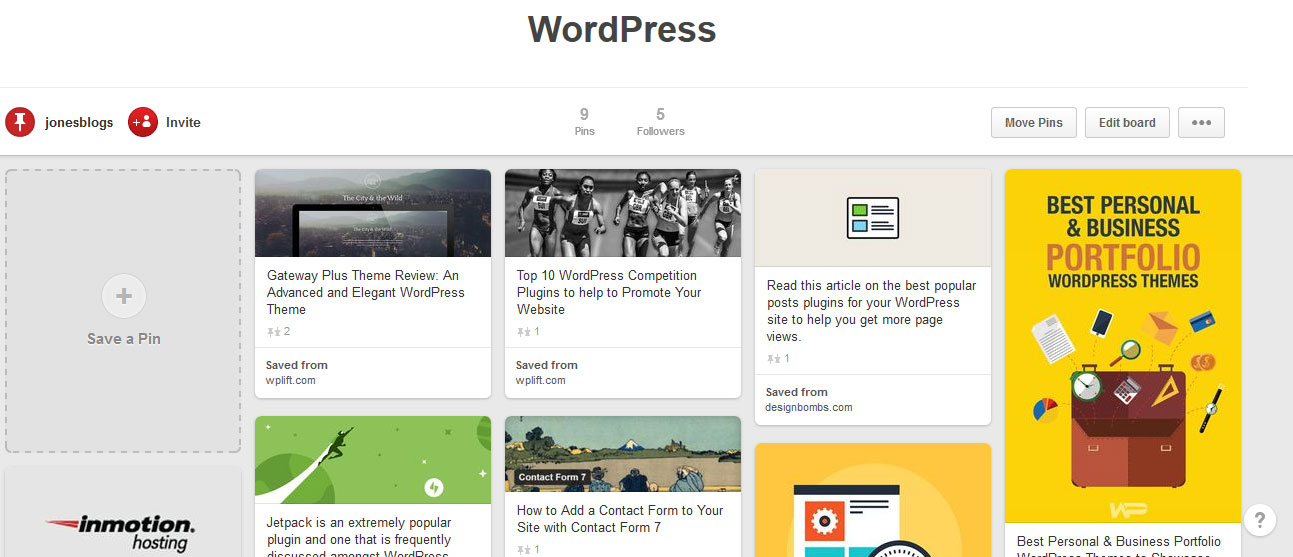 Pinterest is an effective way to promote your websites images and content. By sharing your content on Pinterest you can help increase user engagement and drive traffic to your site. But how do you go about integrating your site with Pinterest to encourage viewers to Pin you images?
In this article we are going to look at the different ways you can get your images shared on Pinterest and the plugins that are available to help you do so. By carrying out these actionable tasks your Pinterest community and following should begin to grow.
Pinterest 'Follow' Button

At the most basic level, a website needs a Pinterest Follow button. By adding a follow button to your site, visitors will be able to click on it and then instantly find and join you on Pinterest. This enables your audience to see your Pinterest boards and then pin your images that they like to their boards. This is the start of your images getting shared on Pinterest.
A great free plugin for adding a Pinterest follow button to a WordPress site is Pinterest Widgets. This is a quick and easy plugin to install and start using. As well as a Pinterest Follow Button widget, it also includes a Pin widget, a Board widget and a Profile widget. Once it is up and running you can start building your Pinterest followers through your site.
Pinterest 'Pin It' Buttons

Having 'Pin It' buttons on your website is the most important way to link to Pinterest. Pin it buttons can be added to all images, so when a visitor to your site sees an image they like they can click on the pin it button and instantly pin the image to their own Pinterest board. This is how your images can begin to be organically shared on Pinterest, as the more people who pin them, the larger audience they will receive.
There are many different types of plugins for 'pin it' buttons. Pinterest Pin It Button for Images is a basic plugin for WordPress that enables you to add a pin it button to each image on your site. When you hover over the image a pin it button will appear and this image can then be pinned to your visitors pinterest boards one they click on it.

A more advanced plugin for WordPress sites is Pinterest Lightbox. This plugin is for sites with hundreds of images, arranged in albums. This plugin works with NextGEN Gallery, and it allows pin it buttons to be added directly to each image within a gallery. Then when these images are added to Pinterest boards they are uploaded to their full size, not as thumbnails, showing them at their best.
Displaying a Gallery of Pinterest Images on Your Site

If you have some great images on your pinboards you may well want to share them on your site in a gallery. This could encourage your audience to join you on Pinterest and get pinning your images, so it is well worth doing. It also means they can scan your most recent pins without leaving your website.
Again there are many plugins that can display your Pinterest images on your site. I would recommend Pinterest RSS Widget, as it is a powerful plugin that has many customization options to choose from. This plugin takes the most recently pinned images from Pinterest and displays them on your site in a gallery in the sidebar, or if you would rather you can insert them into a page or a post. It lets you choose from options like changing the size of the images, adding titles to them, opening them in a new window, and showing a follow me button at the bottom. This plugin looks professional and will no doubt boost Pinterest followers.
Blocking

Often, for many different reasons, you may not actually want to share an image on Pinterest. This is totally acceptable but very hard to do unless you install a plugin called Pinterest Block.
Pinterest Block does exactly what it says, it blocks images getting pinned on Pinterest. You can select different pages, like the home page, or specific posts that contain images you don't want to share. Once selected visitors can only view the images, not pin them. Quick and easy to install it is a plugin worth having.
Final Thoughts
All of these plugins above will help you integrate your WordPress website with Pinterest, help you create a Pinterest community and drive more traffic to your website. However, to really get a high number of Pins, make sure your images are interesting, attention grabbing and relevant to your target audience. If your viewers like your pictures then they will share them.
Do you use Pinterest to promote your content? What top tips do you have? Please share in the comments below…